Auto Body Repair Smithfield, NC
One of the worst things you can go through is wrecking your vehicle. You don't know if you can get it repaired and back on the road or if you have to salvage and get a new one. Before you make a judgement, let the auto body and collision experts at Smithfield Collision take a look. We provide over 100 years of experience between our employees to help. Even if it looks unsalvageable, our experts can work magic.

Smithfield Collision is located in Smithfield, North Carolina serving all of Johnston County and the surrounding areas. Our employees have a huge amount of experience to tackle any collision or
auto body repair
project that comes into our shop. We can give you
accurate estimates
that won't leave you with sticker shock after the repair is through.

At Smithfield Collision, we pride ourselves on the latest technology and finessed manual skill to complete your body repair with ease. We can
match the paint
on your vehicle so your car looks like new after we are done with it. Our
satisfaction guarantee
means you will be happy driving your renewed vehicle out of our shop.
Call us
today for a quote or to schedule a repair appointment!
Our Body Repair Guarantee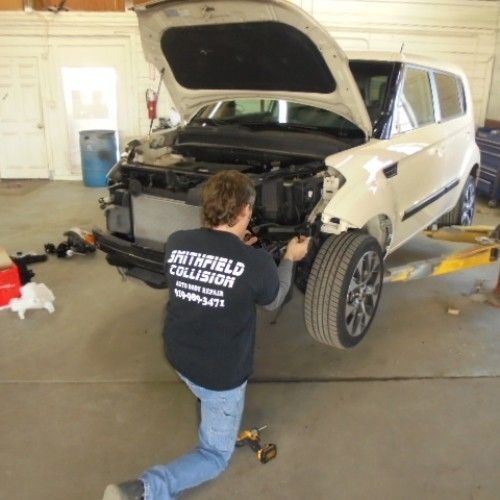 At Smithfield Collision, we stand behind our work and guarantee you will receive the highest quality workmanship to get your wrecked vehicle back on the road. We guarantee that you will receive a fair estimate that covers every aspect of the repair and we will work with your insurance so you don't see unexpected costs.

Unparalleled Experience
Between our full-time staff at Smithfield Collision, we have over 100 years of experience in auto body industry. That is experience you will not find anywhere else!

If you wrecked it, we'll correct it!
Smithfield Collision is a body shop that offers collision work, auto body repair, auto body paint, and auto repair. We are here to help you get your car fixed with less stress and better results. 
 
Send Us a Message